in no particular order that I can tell...
~ Yes, the picture tells the story. ~



You can read more about it here, oh my.
~ Oh boy, another black, white and gray one. ~
This was actually on two posts! You can read/ see more here and here.
And now for ones that never made it to the blog...
~ A Miyake Mock-up ~
~ made out of a bed sheet ~
~ Egyptian, no less ~
Nevertheless, no matter what I do, I cannot get it to fit right. I believe I've tried every possible iteration. It's Vogue 2315 if you haven't guessed.
Another uncompleted masterpiece (ahem).

~ A Sparkling Organza Rift on a Tina Givens Slip Pattern ~
~ by the way, it is assymentrical ~
Last, but not least, etc., etc.
~ I have been working on this thing for months on end ~
Pathetic, isn't it. Yet, I've persisted. With brown plaid linen in stash for a lifetime. Believe it or not, I used Vogue DKNY 1461 which I have to say wins the award for the ULTIMATE in WHAT WAS I THINKING?! P.S. I also decided to make it longer than micro mini.
It has plaid pleats, people! All the way around the front and the back, from the shoulders/ neckline to below the hips. And the entire width and length of the sleeves.
~ a close-up of the fact that you can't see the pleating when it's plaid ~
Especially if you make sure you match everything up as you go.
~ oh, there you go, the pleats make an appearance ~
Finally, some excitement.
No, but wait, I could stand it no more. After putting in the not so invisible 22" zipper, I added lace on either side to really show it off.
~ yeah, bay-bee! ~
It's not over yet...
There's still lining to put in.
~ Not to mention, hand sewing it down the zipper area. ~
Then, instanity inspiration struck, ala Chanel.
~ All I need is more zips! ~
All the way down the sleeves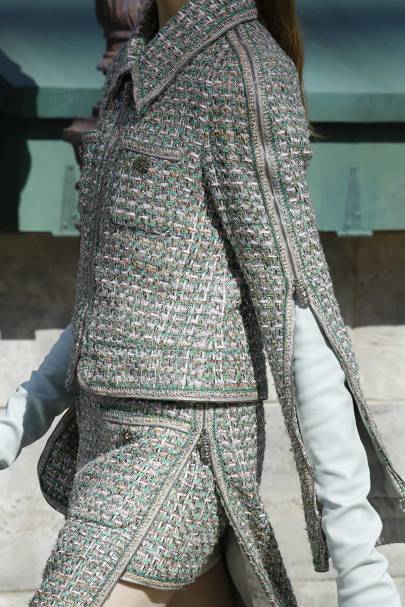 ~ Even down the skirt! ~
From the hip to the edge of the skirt. Oh, and pockets, if I can think of where to place them. Of course, there would be lace surrounding the zippers, just like with Chanel my first zipper.
Who knows, if the dress ever gets out of TIME OUT, maybe it'll make it into my Top 5 of 2020. Or not.
Thoughts?
I'll be showing up at Patti's Not Dead Yet Style and Catherine's I Will Wear What I Like when they go live. Hope to see you there.